Top 10 Foods To Eat In Kerala
Because one can never say no to food!
India is a diverse country which is a union of culture, languages, tradition, food and much more. Each state has different languages, different culture and most importantly, different food habits. India is famous all across the globe because of the variety of food available in this country. From north Indian chole bhature to maach bhaat of the east to Sambar Chutney of the south, India has a lot of dishes to offer. The authentic spices, wholesome recipes, tasty sweets and much more compels people from different countries to visit India and enjoy the diversity of food.
Known by names such as "God's Own Country", "The Jewel of South India", "Spice Garden of India", "Land of trees or coconut" and many more, Kerala is a beautiful state situated at the southern part of the Indian subcontinent. The most commonly spoken language of Kerala is Malayalam. This state has a different take on food and diet. It has multiple options for vegetarian dishes, non- vegetarian delicacies, sweets, drinks and much more. The Kerala Foods are known to have the best use of spices in them and also exports its spices all over the world. This is the reason why Kerala is also called "Land of Spices" or the "Spice Garden of India".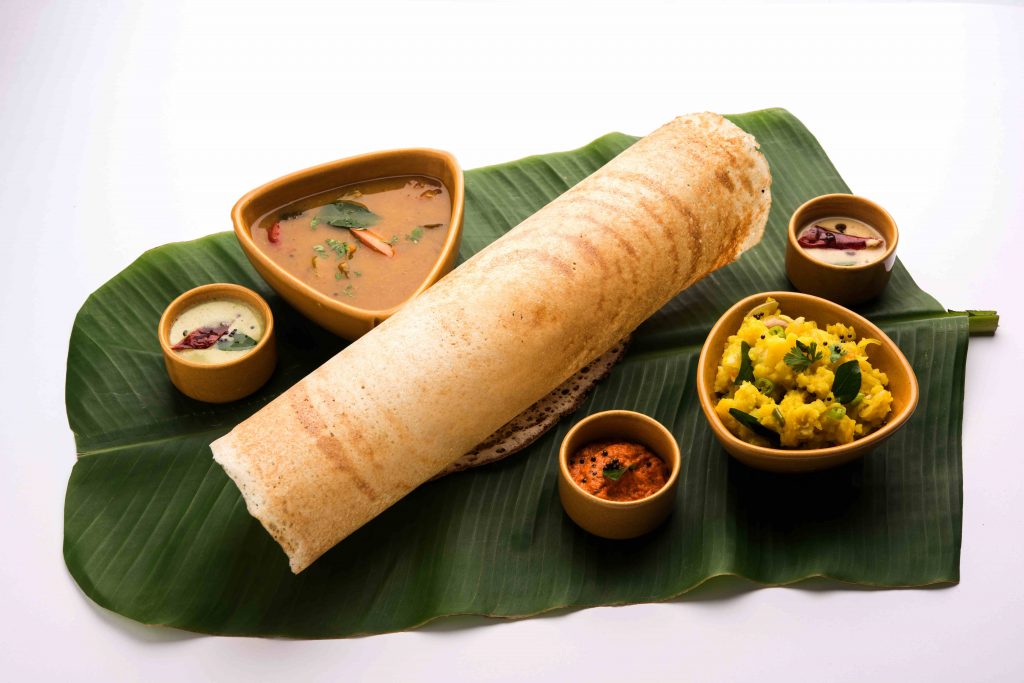 Some of the Kerala's Famous Foods or Traditional Foods Of Kerala which are loved by everyone are listed below:
1.Puttu and kadala curry
The Puttu and Kadala Curry is as unique as its name. Generally this dish is eaten during breakfast, but such is the taste of this dish that people do not mind consuming it at lunch or even at dinner. The dish Puttu and kadala curry is one of the very famous Kerala Foods that has two elements, a cylindrical rice cake andalong with curry. The rice cake basically has coconut in it whereas the curry is made up of coconut milk, shallots, black chickpeas and other local ingredients. This dish has a balance of flavour and is mostly served with papad to add the crunch element to it.
2.Malabar Parotta with Kerala beef curry
If you have visited Kerala and did not try Malabar Parotta with Kerala beef curry, one of the famous Kerala Foods, then your trip is incomplete. This dish has two elements in it, the layered Parotta and the spicy curry. The Malabar Parotta is not like the simple Parottas we get, it has different layers along with egg, oil and ghee in it. It is quite soft from inside and crunchy from outside. The curry on the other hand is made spicy and has small pieces of beef in it. It also has certain vegetables like tomato which is added for a tangy flavour.
3.Karimeen pollichathu
One of the Famous Kerala Foods, Karimeen pollichathu, is as interesting as its name. As we all know that the backwaters of Kerala are home to different species of fishes. Therefore seafood in Kerala is known to be out of the world. Karimeen pollichathu is among the well known Kerala Foods which is made up of the famous fish, Karimeen. Karimeen is also known as pearl spot fish. This fish is marinated with the rich species of Kerala along with lemon juice, chillies and others. Once marinated, the fish is then baked in the plantain leaves which again gives a unique flavour to the fish.
4.Appam along with stew
Do you like pancakes? If yes, then you should definitely try Appam with stew. Appam is known to be the Indian version of pancakes. Whereas the idea of stew is derived from Europe's soup. The appam is basically made from fermented rice and coconut milk. It can be made with or without vegetables, but it is important to note that the vegetables added to appam are chopped in order to add colour as well as crisp to it. The stew on the other hand is rich and made with aromatic Spices of Kerala, coconut milk, diced vegetables and much more. The stew also has strong flavours of ginger in it. Appam and stew is among the must try foods of Kerala.
5.Erissery or pumpkin and lentil curry
Many people do not really like pumpkin, but this pumpkin dish of Kerala is just irresistible. This dish is mostly made on the occasion of Onam or other festivals but trying this dish on any day is never a bad idea. This dish is a combination of sweet and spicy. The sweetness of pumpkin mixes well with species such as cumin, garlic and others. Like every other dish of Kerala, coconut is added to this dish too. This Curry is heavy and can be eaten as a soup or with rice. People of Kerala generally serve this curry rice with ghee on top.
6.Kerala prawn curry (chemmeen curry)
The list of Kerala Famous Foods includes the Kerala prawn curry which is also called the Chemmeen curry. This curry is a burst of flavours, it is tangy, spicy, sour as well as sweet. A spoon of this curry gives an amazing taste as well as a beautiful aroma. The spices used in this curry include Fenugreek, black mustard, pepper and others. For the sweet and tangy element, raw mangoes are added. Other than this, coconut milk and their secret ingredient kudampuli, commonly known as brindleberry is also added. The prawns or chemmeens added to this curry are marinated before and then added to the curry. Chemmeen curry is usually served with rice but one can also substitute it as soup.
7.Fish Moilee
There is nothing better than the seafood of Kerala!
The tender and fresh fishes make everything in the dish more delicious and wholesome. The Fish Moilee of Kerala is inspired from the Syrian Christian stew dish. As the name suggests, Fish Moilee is stew made with fish. The most interesting fact about this dish is that it is prepared in a traditional earthen pot which is also known as manchatti. The fish used in this dish is either seer fish or even kingfish. The spices used in this dish include cinnamon, pepper, clove, turmeric and others. The spicy flavour to this dish is added by green chillies.
8. Thalassery biriyani
Biryani is always a treat to the eyes and obviously your tummy!
The people of Kerala did not take a step back when it came to the most loved and popular dish, Biryani. The Thalassery biriyani is basically Kerala's approach to everyone's favorite biryani. It is a rice based dish with aromatic spices, flavourful meat and much more. Every spoonful of Thalassery biriyani is nothing less than paradise. The addition of Thalassery spices to the slow cooked rice and tenderly cooked meat makes it one of the best types of Briyani. Mostly there is no requirement of any other curry or sauce with the biryani, but people prefer having raita, a famous curd dish with
9.Banana fritters
Banana is yet another favourite element of the dishes created by the people of Kerala. The Banana fritters are mostly consumed in the evening as tea-time snacks. In the local language of Kerala, it is known as Pazham pori or even Ethakka appam. These fitters are sweet in taste and have no spice added to it. Ripe bananas are used which are later coated into plain flour and then fired. Sometimes toppings like sugar syrup or honey are added to these fritters to make it sweeter. This is one of thefamous Kerala famous foods and is available throughout the state in every season.
10.Palada Payasam
It is said that meals end well with deserts . The Palada Payasam is the most loved and authentic desert of Kerala. This dish is made on all special occasions such as Onam and other festivals. It is made up of rice ada, ghee, sugar, and milk. It is similar to the sweet dish commonly called "kheer". The texture of this dish is smooth and rice in every spoon makes this dish even tastier. It is known to be one of the oldest and tastiest desserts of Kerala.